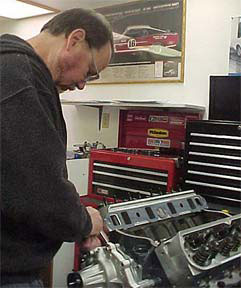 ..Have us build an engine for you or get
one of our Ford Racing crate engines.

BUILDING AN ENGINE
..
Let us build a hand built engine for you.
Specially built for performance, street, stock, or race.
These engines come with five spec sheets:
1.Cylinder Head spec sheet
2.Short Block spec sheet
3.Cam Degree spec sheet
4.Compression Chart
5.Piston spec sheet

..These engines go through special machining
operations, cleaning and assembly. All complete
engines are tagged, oil pressurized and ready for
shipping. Dyno testing available!
BUYING A CRATE ENGINE
Value and quality at a price many can afford.
Direct from Ford Racing!